---
[Date Prev][Date Next][Thread Prev][Thread Next][Date Index][Thread Index]
[Lordsawar-discuss] LordsAWar, unable to launch
---
| | |
| --- | --- |
| From: | Asbjørn Bakke |
| Subject: | [Lordsawar-discuss] LordsAWar, unable to launch |
| Date: | Fri, 25 Mar 2016 15:22:48 +0000 |
---
Hey! I'm attempting to launch LordsAWar on Windows 10 after installing it, but I get the following error message:
Runtime Error!
Program: ...\lordsawar.exe
"This application has requested the RUntime to terminate it in an unusual way.
Please contact the application's support team for more information.
Any suggestions would be welcome!
Cheers,
Asbjørn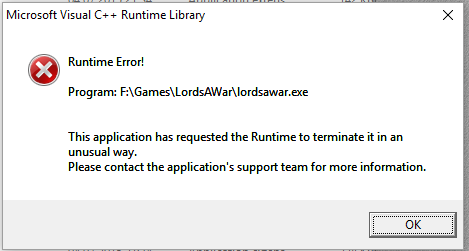 ---
---
| | | |
| --- | --- | --- |
| [Prev in Thread] | Current Thread | [Next in Thread] |
[Lordsawar-discuss] LordsAWar, unable to launch, Asbjørn Bakke <=
---