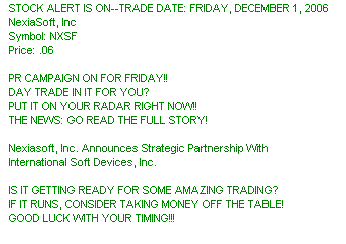 DONT LOST THIS CONCENT:Information in this report may contain forward looking statements within the meaning of Section 27A of the Securities Act of 1933 and Section 21B of the SEC Act of 1934, statements that involve discussions of future events.
Don't rely on them. Past performance isn't indicative of future results. We received five hundred thousand free trading shares from a third party, not an officer, director or affiliate. We intend to sell all five hundred thousand shares now, which could cause the stock to go down.
This company has: an accumulated deficit, nominal cash, nominal revenues in its most recent quarter, a nominal judgement against it, back taxes due and the float of stock is currently increasing. These factors raise doubt about its ability to continue as a going concern. A failure to finance could cause the company to stop operating. There isn't adequate, current information available on this company. This is a high risk stock. This report shall not be construed as any kind of investment advice or solicitation.