i just typed "RTFM" in google images :)
concerning the documentation :
IMHO
i can't blame anyone to have written the documentation in C++ or Python. in my early days of a C code dev i used to write the doc in raw C code if no doc at all

do you know why ARDUINO or RASPBERRY PI have become essential tools for discovering electronics ?
it is because it was not intended for electronics engineer

it was intended to be used by artists, musicians, hobbyists, kids, scholars, etc...
as a consequence, you don't have to write (at first) any line of code to make you LED blink
there is PLENTY of examples of code and SCHEMATICS all over the internet
i'm a hamradio op and an EE engineer, i love to talk about antennas, modulations, bit error correcting/detection, linear algebra, filters, signal and so on, but i don't like C++

that is why MY ideal documentation would have been AN EXAMPLE FOR EACH BLOCK with graphics

and simple diagrams explaining tags, messages for each block

i don't think that the diagram below is self explanatory  for packet decoding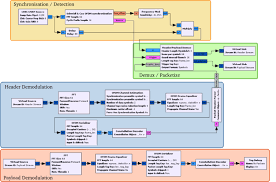 Bob