[Top][All Lists]
---
[Date Prev][Date Next][Thread Prev][Thread Next][Date Index][Thread Index]
[Bug-XBoard] Winboard Bug with foreign letters
---
| | |
| --- | --- |
| From: | Aleks |
| Subject: | [Bug-XBoard] Winboard Bug with foreign letters |
| Date: | Sat, 02 Aug 2008 22:23:39 +0200 |
| User-agent: | Thunderbird 2.0.0.16 (Windows/20080708) |
---

Dear all,


whenever I place one of the following letters or 'signs' into the communication window the application crashes with a 'Connection closed by ICS' message, please see atttached jpgs:


ß (german)   or   ?   or    `


Version used: v4.2.7b, playing on freechess.org (FICS). Tried to reproduce the crash with the JavaBoard on FICS, but there was no crash.
Especially the crashes when I place 'ß' into the window I know since a ling time, e.g. since more than four years.


Thanks and Regards,
Aleks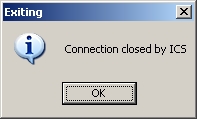 ---
---
[Bug-XBoard] Winboard Bug with foreign letters, Aleks <=
---