Hi Zeshtook,
I'm not quite sure what you are after. Have you tried looking at the Settings, Display options? Experiment with the Move Delay and the Animation settings.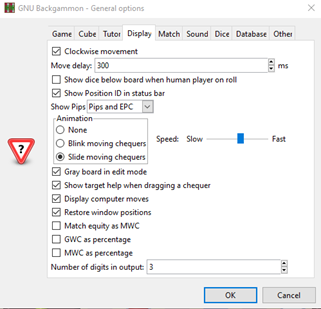 If you are referring to the Hint display, below, there is no speed setting for Show. The only way to see it is to select a move then, press and un-press the Show button so that you can see the position before and after the move you choose from the list. If you press Move, it makes the move immediately.
Developers, perhaps gnubg could use the Delay and Animation settings when using the Show or Move commands.
Cheers,
Ian
From: Bug-gnubg [mailto:bug-gnubg-bounces+ian.shaw=address@hidden] On Behalf Of Zeshtoook Zeshtook
Sent: 06 May 2020 07:41
To: address@hidden
Subject: gnu hint problem{so fast}
thank for the best backgammon in the world
please tell me how can i make automatic hint move slower than this